글로벌 마케팅 분야
Semiconductor
E-peas
AEM Product family Ambient Energy Manager
The AEM is an integrated energy management circuit that extracts DC or AC power from different types of ambient energy harvesters to simultaneously store energy in arechargeable element and supply your system with two independent regulated voltages.
The AEM family enables you to extend the battery lifetime and ultimately eliminates the primary energy storage element in a large range of wireless applications such as industrial IoT, retail, smart home, cattle monitoring and wireless sensor nodesnodes.
BLOCK DIAGRAM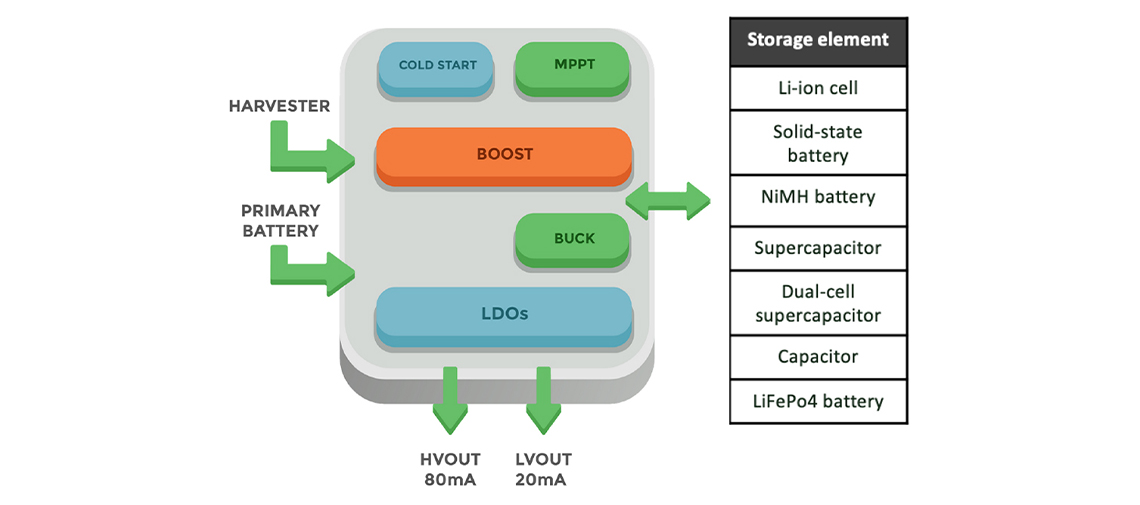 FEATURES
Sources

Solar:AEM 10941
ThermalThermal:AEM 20940
VibrationVibration:AEM 30940
Radio FrequencyFrequency:AEM

Cold start typical

3µW @380 mV
150 µW @60 mV (AEM 20940 )
-19 dBmdBm@868 MHzMHz/915 MHz
-12 dBmdBm@WiFi (2.4– 2.5GHz)

Footprint

QFN 28 (5x5mm)
DownDownto onlyonly7passive components

Configurable MPPT

ConfigurableMPPT withwith2-pin programming
70 – 75 – 85 – 90 %for the AEMAEM10941
50 – 55 – 75 %for the AEMAEM20940
50 – 65 – 80 %for the AEMAEM30940

ZMPPT configuration

Constant impedance regulation for AEMAEM20940 and AEMAEM

Ultra -low -power boost

Input voltage range fromfrom50 mV to 5V
EfficiencyEfficiencyup to 95 %

Integrated LVOUT LDO regulator

Fixed voltagevoltageat 1.2Vor 1.8V
Up to 20 mA
PowerPowergated dynamicallydynamicallyby external control

Integrated HVOUT LDO regulator

Programmable voltagevoltageat 1.8V, 2.5Vor 3.3V(pre pre-defined modes)
Custom mode allows output withinwithin1.8Vandand4.2V
Up to 80 mA load current
PowerPowergated dynamicallydynamicallyby external control

Flexible energy storage management

Selectable overcharge and overdischarge protection
For any type of rechargeable battery or (super)capacitor
Fast supercapacitor charging
Warns the load when batterybatteryis running low
Warns when output voltage regulators are available
Warns when the primary batterybatteryis used
Integrated balancing circuit for dualdual-cell supercapacitor

Leakage current

0 nA with LDOs disabled
600 nA with LDOs enabled

Primary battery

Automatically switchesswitchesto the primary battery when storage elementelementis exhausted

TARGET APPLICATIONS

Retail
Smart Agriculture
Tear monitoring
Industrial IoT
Smart watch
Smart home / building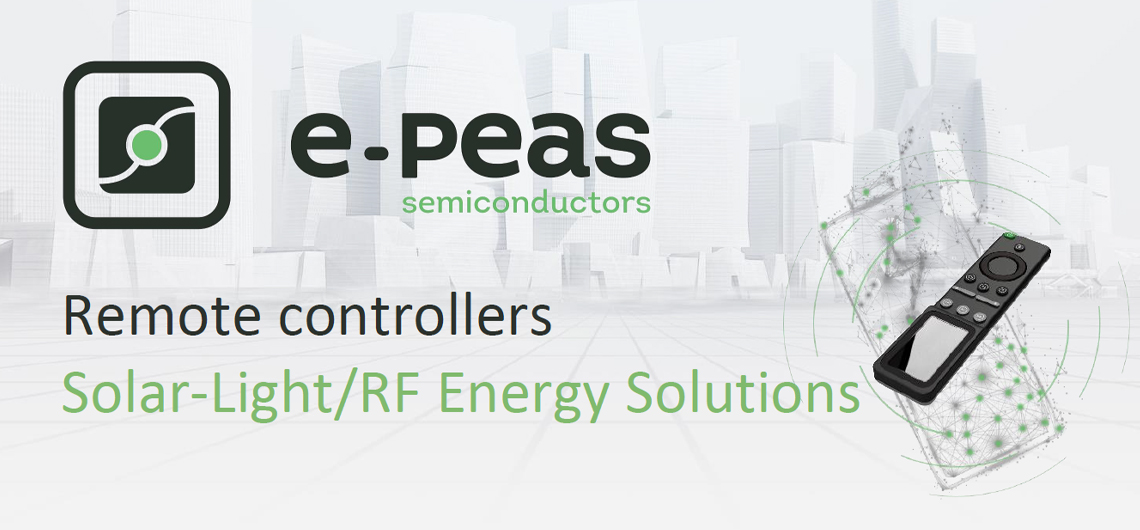 Energy Harvesting for RCU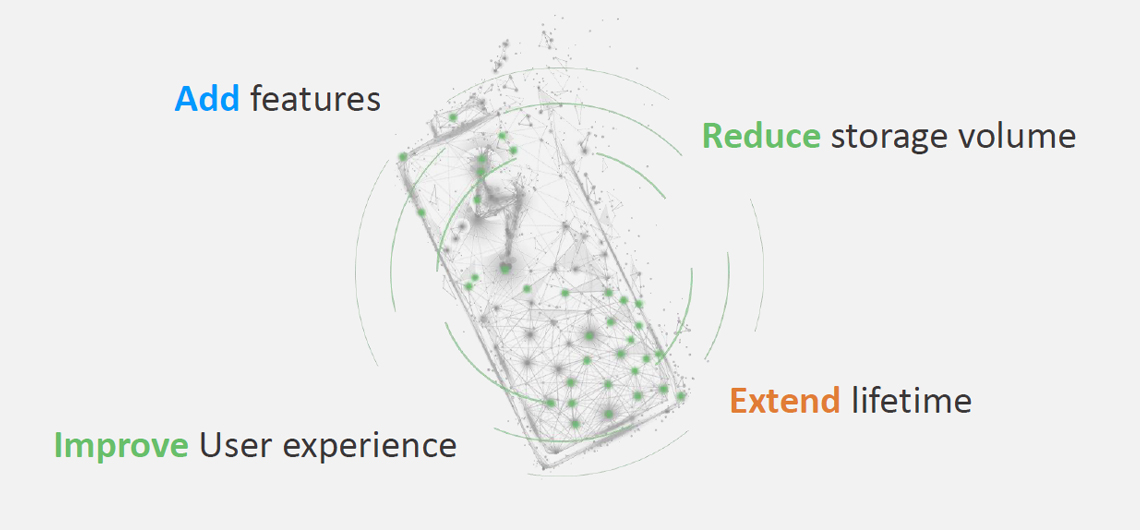 Why to use Energy Harvesting?
REDUCE WASTE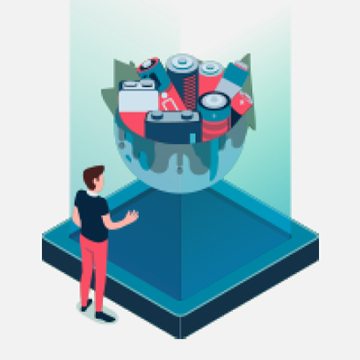 NO REPLACEMENT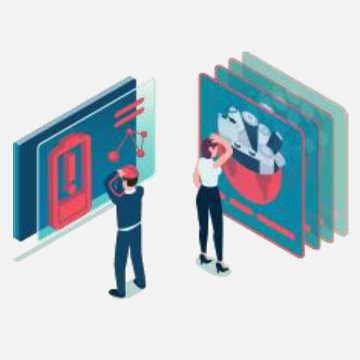 AUTONOMOUS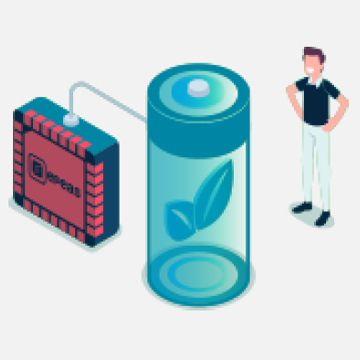 What Is Energy Harvesting?
First, you need a harvester to transform the energy into electrical power and a storage element to store the energy for a later use.

Energy Harvesting requires an AEM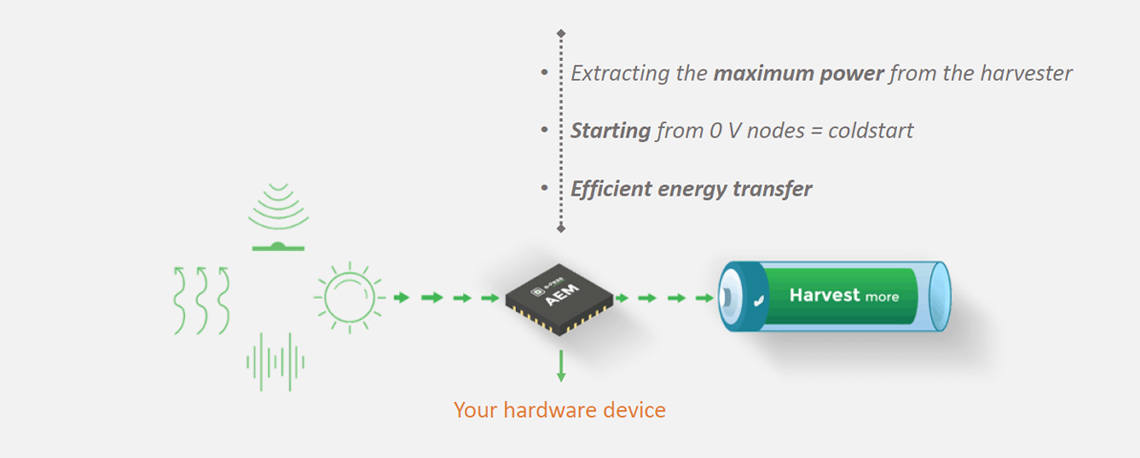 Solar/Light charging remote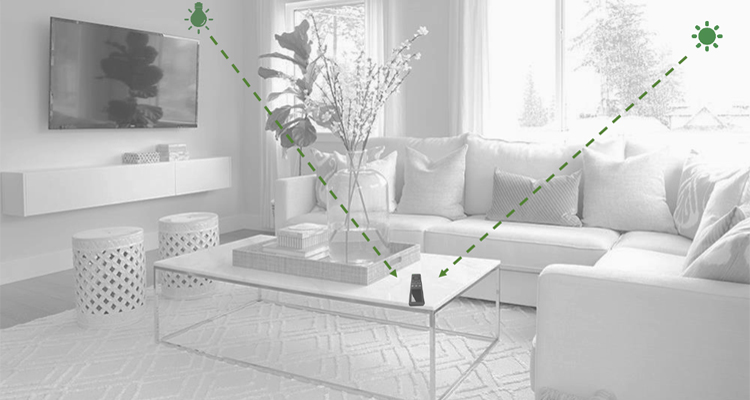 Energy Source
Requirements
Low light charging capabilities
MPPT to adapt to changing light conditions
Fast charging capabilities
Solar/Light charging remote

AEM10941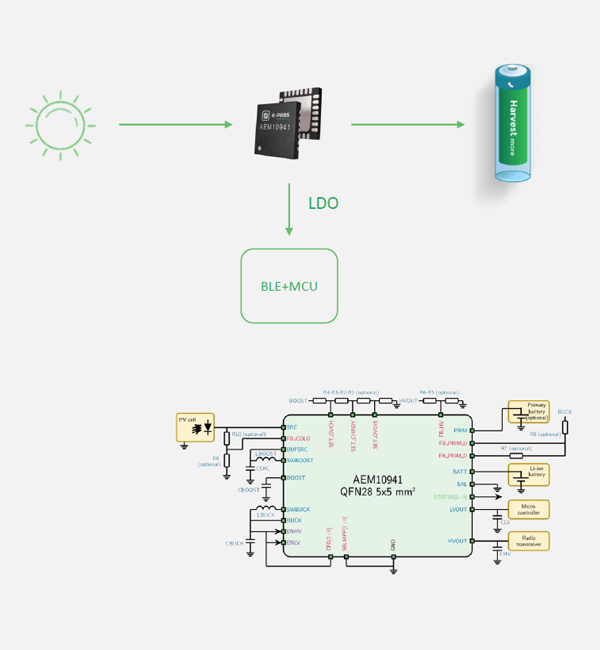 Specifications:
Low cold start : 380mV and 3uW
Boost from 50 mV to 5V
MPPT : Maximum power point tracking
LDO up to 80 mA
Battery management : over-charge and over-discharge protections
Various Energy storage support
What it means:
Start harvesting in low light conditions
Boost from very low light conditions
Track light changes to extract the most from PV cell at all times
Provide regulated power to application
Support for LI Batteries, super caps, dual cell super caps and LICs
BOM:
7 passive Components.
No external DC/DC converted required to provide power to RCU
AEM10330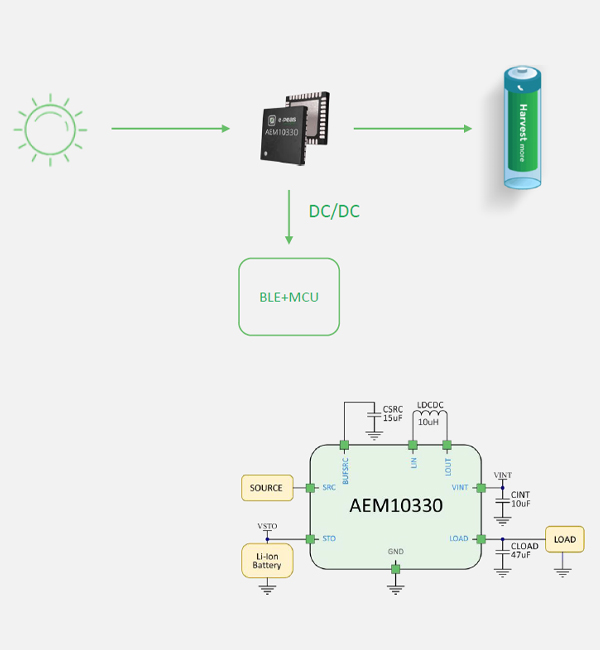 Specifications:
Low cold start : 275mV and 3uW
Buck - Boost from 100 mV to 4.5V
MPPT : Maximum power point tracking
DC/DC up to 60 mA
Battery management : over-charge and over-discharge protections
Various Energy storage support
What it means:
Start harvesting in very low light conditions
Boost from low light conditions
Track light changes to extract the most from PV cell at all times
DC/DC can supply application with 3.3V even if the storage element falls to 1.8V
Support for LI Batteries, super caps, dual cell super caps and LICs
BOM:
4 passive Components.
No external DC/DC converted required to provide power to RCU
RF charging remote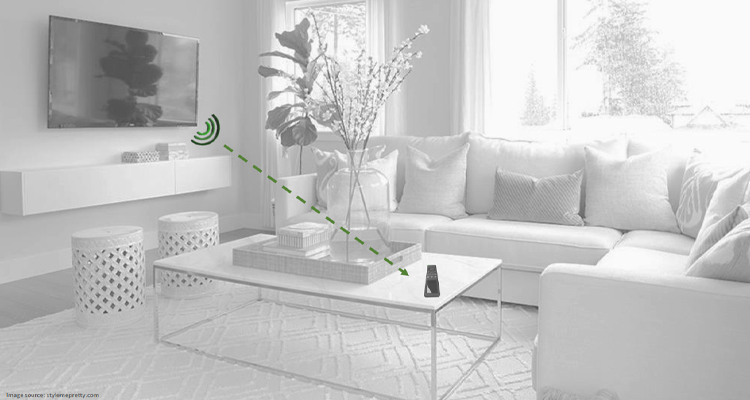 Energy Source
Requirements
Dedicated transmitter embedded in TV, setup box , home gateways or stand alone.
Low cold start conditions (-19 dbm)
Few meters distance charging capabilities
RF charging remote

AEM30940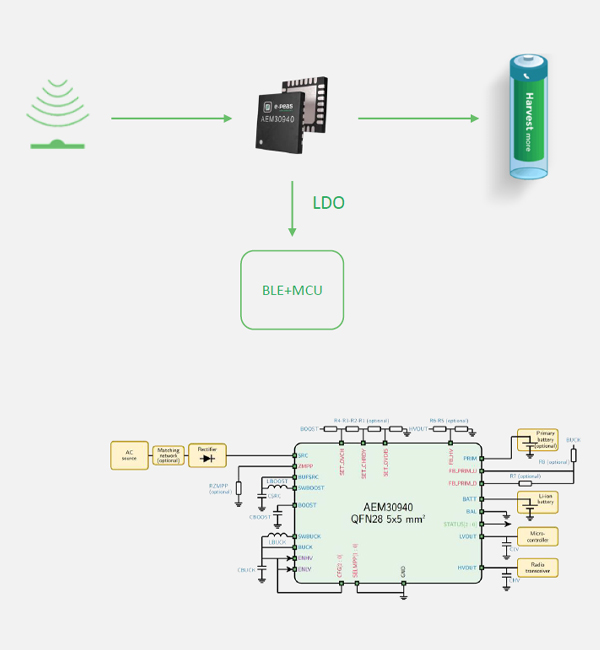 Specifications:
Low cold start : 380mV and 3uW (-19 dBm)
Boost from 50 mV to 5V
MPPT : Maximum power point tracking
LDO up to 80 mA
Battery management : over-charge and over-discharge protections
Various Energy storage support
What it means:
Start harvesting low RF power condition : far from source.
Boost from very low RF signal
Track RF changes to extract the most from PV cell at all times
Provide regulated power to application
Support for LI Batteries, super caps, dual cell super caps and LICs
BOM:
7 passive Components.
No external DC/DC converted required to provide power to RCU
AEM30330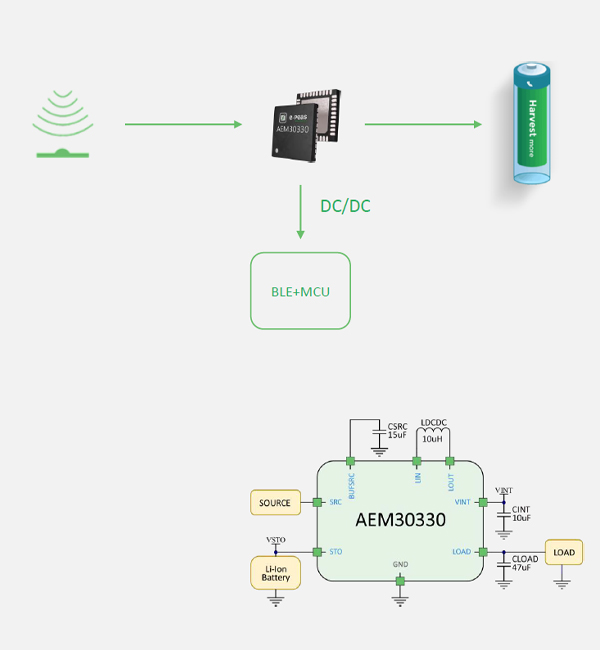 Specifications:
Low cold start : -19 dBm
Buck - Boost from 100 mV to 4.5V
MPPT : Maximum power point tracking
DC/DC up to 60 mA
Battery management : over-charge and over-discharge protections
Various Energy storage support
What it means:
Start harvesting low RF power condition : far from source.
Boost from very low RF signal
Track RF changes to extract the most from PV cell at all times
Provide regulated power to application
Support for LI Batteries, super caps, dual cell super caps and LICs
BOM:
4 passive Components.
No external DC/DC converted required to provide power to RCU
Evaluation Kits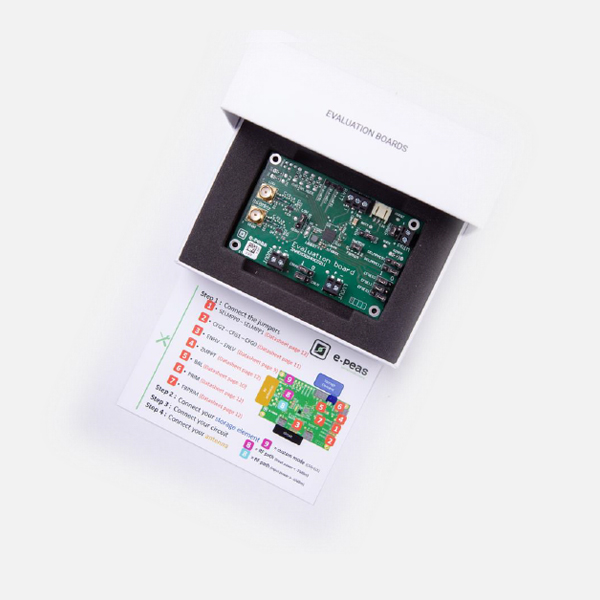 Evaluation boards are available for
AEM10941
AEM10330
AEM30940
AEM30330
Specifications
Easy to use Connectors for storage element, source and application Easy settings using jumpers