Newratek
NRC7292 SoC for 802.11ah Wi Fi HaLow Ultra Low Power, Long Range Wi Fi for IoT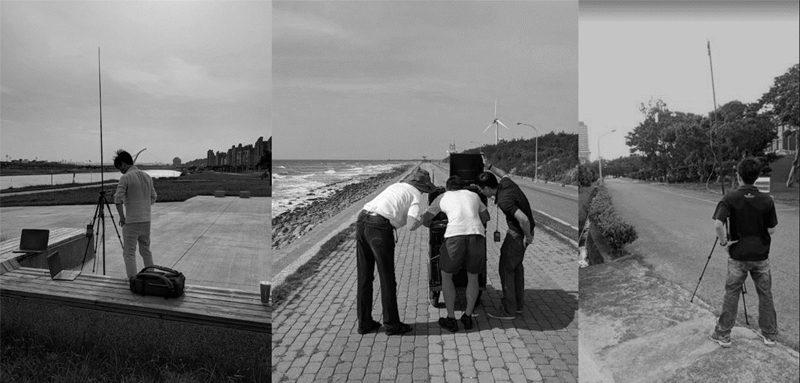 802.11ah(Wi-Fi HaLow) Overview
WI-FI STANDARDS
IEEE 802.11AH (WI-FI HALOW)
COMPARISON OF IOT TECHNOLOGIES
FREQUENCY BAND OF GEOGRAPHICAL AREA
FIELD TEST EXAMPLES
WIFI HALOW STANDARDS
STANDARD & SPECIFICATION

CERTIFICATION & PROMOTION

Characteristics of IEEE 802.11ah HaLow
| | |
| --- | --- |
| Frequency Band | License-exempt bands below 1 GHz, excluding the TV white spaces – Example: 863-868.6 MHz (Europe), 915.9 -928.1 MHz (Japan), 755-787 MHz (China), 917- 923.5 MHz (Korea), 866-869 MHz, 920-925 MHz (Singapore), and 902-928 MHz (U.S.) |
| Channel Width | 1/2/4/8/16 MHz |
| Range | Up to 1Km (outdoor) |
| End Node Transmit Power | Dependent on regional regulations (from 1 mW to 1 W) |
| Data Rate | 150 Kbps ~ 346.666 Mbps |
| Devices per Access Point | 8,191 |
| Standard Body | IEEE 802.11 working group |
| Topology | Star, Tree |
Ultra-Low Power, Long Range Wi-Fi for IoT
Features or Capabilities
NRC7292 case
Wi-Fi HaLow Key benefits
Sub-GHz radio frequencies
750~950MHz

10x longer range, 100x area, 1000x volume of coverage by single AP
Up to 1.5km range of operation
Robust connection in noisy environments
Better penetration through buildings
Capable of battery operation
High-density, Low latency
No proprietary hubs or gateways
Easy FW upgrade over the air (FOTA)

Narrow band, OFDM channels
1,2,4MHz BW, Max 64QAM
Ultra-low power sleep modes
TIM/TWT
Flexible and high data rate
Up-to 15Mbps PHY
Large volume of STA per AP
1080 STA per AP
Enhanced Security
WPA3 & enhancedopen security
Ready for easy internet & cloud connectivity
TCP/IP, IPv6
World-wide open standard
IEEE standard WFA Certification
COMPARISON OF IOT TECHNOLOGIES
BLE
ZigBee
Z-Wave
Wi-SUN
LoRa
NB-IoT
HaLow (NRC7292)
Power Consumption
Very Low
Very Low
Very Low
Very Low
Very Low
Very Low
Very Low
Frequency
2.4GHz
2.4GHz/Sub-1GHz
Sub-1GHz
Sub-1GHz
Sub-1GHz
Licensed
Sub-1GHz
Data rate
1Mb/s 270kb/s
250kb/s
40kb/s, 100kb/s
300kbps
11kbps, 50kbps
250kbps
15Mbps
Coverage
< 100m
< 20m
< 30m
< 1km
< 10 km
< 10km
< 1.5km
Self Network Configuration
O
O
O
O
X
(Operator)
X
(Operator)
O
TCP/IP(Internet)
X
X
X
X
X
O
O
Modulation
GFSK
BPSK, OQPSK
BPSK, GFSK
FSK, OFDM, OQPSK
CSS
QPSK
OFDM
Security
AES128
AES128
Security2(s2)
IEE802.1x
AES128
3GPP Security
WPA3
Firmware OTA
O
O
O
O
-
O
O
Main Topology
Scatternet
Mesh
Mesh
Mesh
Star
Star
Star/Tree/Mesh
World Wide De facto Standard
Bluetooth SIG
IEEE 802.15.4
X
IEEE 802.15.4g
X
3GPP
LTE Cat-NB1
IEEE 802.11ah
Data Rate vs Range of Unlicensed IoT Connective Technologies
Wi-Fi HaLow provides significant range improvement over 11b/n, BTLE including BT Long Range Modes and Zigbee as well as the data-rate much higher than other LPWAN technologies
Allows direct connect of sensors to APs without professional mesh install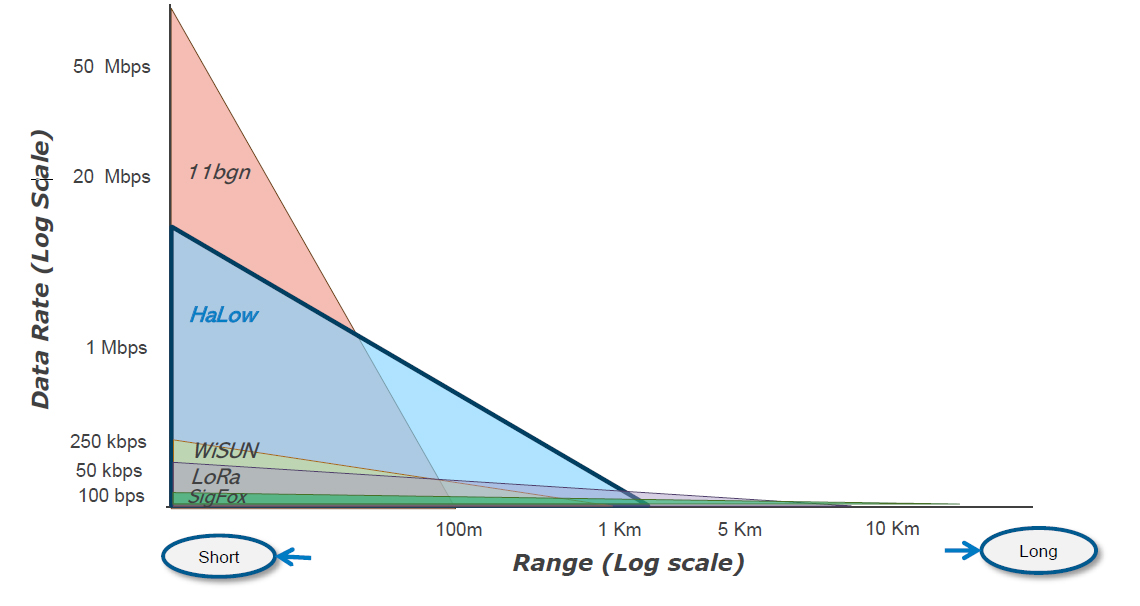 FREQUENCY ALLOCATION IN SOUTH KOREA
Allocated frequency and Tx power
| Item | | Value |
| --- | --- | --- |
| Allocated frequency (MHz) | 921 - 923 (USN1) | 925 – 931 (USN5) |
| Allowed Bandwidth (MHz) | 1 | 1, 2 |
| # of Channel @ BW 1MHz | 2 | 4 |
| # of Channel @ BW 2MHz | 0 | 2 |
| Max Tx power e.r.p (mW) | 10, 25 | 50, 100 |

전파법 기술기준안 개정 완료 (2021.10)
뉴라텍 지원사항: NRM7292B module 전파 인증 (USN1, USN5) 및 무선마이크 신호 회피 알고리즘 FW 제공
NRC7292 802.11AH SOC – SYSTEM FEATURE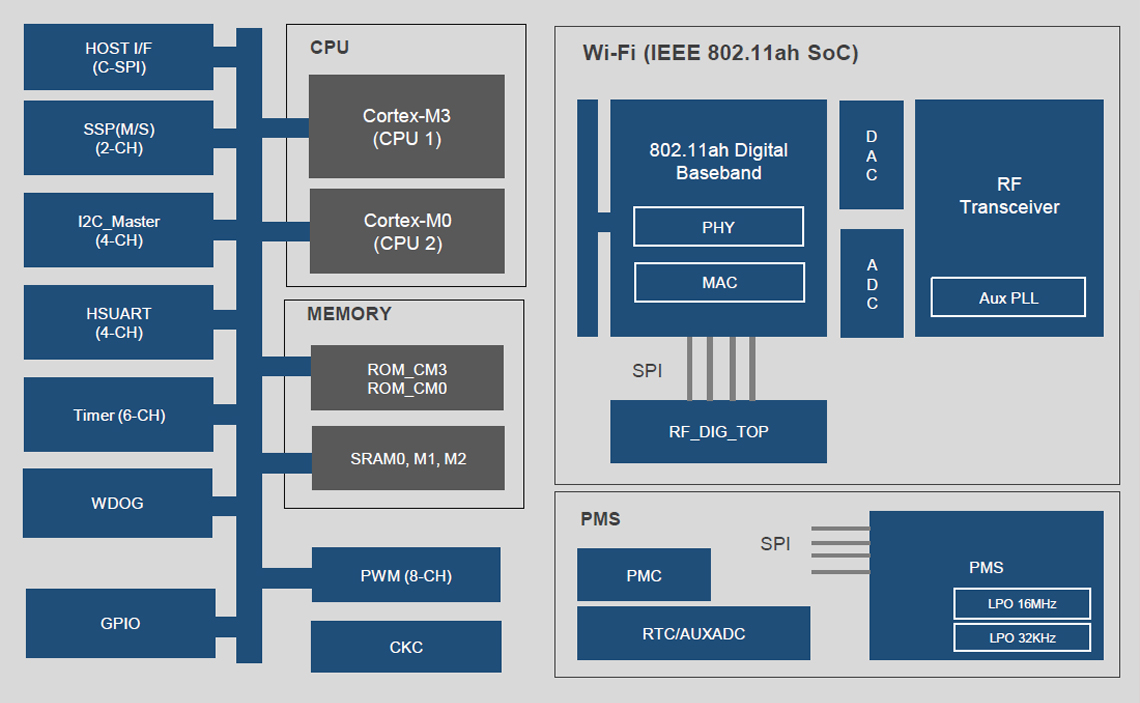 Silicon Process

40nm CMOS LP
Voltage: 2.6~3.6V

Clock Resources

32.768kHz OSC& 32MHz OSC
LPO 16MHz/32.768kHz

System PLL (Aux PLL)

96MHz mode only

Application Processor

Cortex-M3(48/32MHz)

Wi-Fi Communication Processor

Cortex-M0(48/32MHz) for LMAC, PHY/RF control

Internal Memory

ROM0 dedicated to CM3 : 32KB & ROM1 dedicated to CM0 : 32KB
SRAM0/1/2 (256KB/256KB/ 224KB) for CM0 & CM3
Instruction Cache Memory : 32KB

Subsystem IPs

AHB – 11ah MAC/PHY, GDMA, HOST I/F(C–SPI), Mailbox
APB – RTC/Clock Control(CKC), PMC(Power Management Controller), WDOG, 4x I2C Master, 2x SSP, 4x HSUART, 8x PWM- 6x TIMER, GPIO, 4x 9-bit ADC
NRM7292B MODULE
Allocated frequency and Tx power
Standard
IEEE 802.11ah-2016
Security
AES-CCMP
Data rate
150Kbps ~ 15Mbps
Voltage
2.8~3.6V(Typical 3.3V)
Frequency

US : 902 ~ 928 MHz
Korea : 921~923 / 925 ~ 931 MHz
Japan : 920.5 ~ 928.1 MHz

Current
Tx 180mA @50mW Rx 40mA (VBAT=VDD_FEM=3.3V)
Channel Bandwidth
1MHz / 2MHz
Operating Temperature
-40 ~ 85℃
Interface

UART for Host, UART for debugging
SPI slave for Host, SPI master
I2C master

SYSTEM TARGET
monetization_on
Low Cost
ARM Cortex-M3 for
Client Application
No External Memory
RTC and PMU on Chip
sync_alt
Flexible
Standalone vs. External Host Type
Pre-Power Amp vs. External Power Amp
Host boot vs. XIP boot mode (External Flash Memory)
Both Modes for AP & STA
battery_low
Low Power
Inside PMU (Power Management Unit)
Power Gating Design
Clock Gating Design

EVALUATION KIT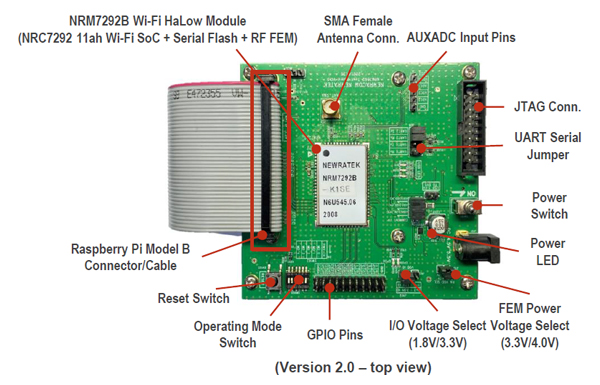 NRM7292B 11ah Wi-Fi module board
Host driver and CLI for host mode
SDK for standalone mode
Both AP and station support
SMA female Antenna connector
SPI/UART for external host interface
i2C/UART/SSP/GPIO for external device interface
Miro-USB type B connector for serial interface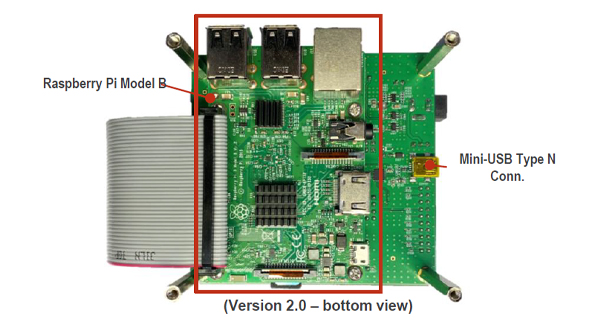 Raspberry Pi 3 model B External Host board
Linux ver. 4.1x with Wi-Fi features
Iper3 EVK performance test tool
802.11n connectivity support
802.11AH APPLICATIONS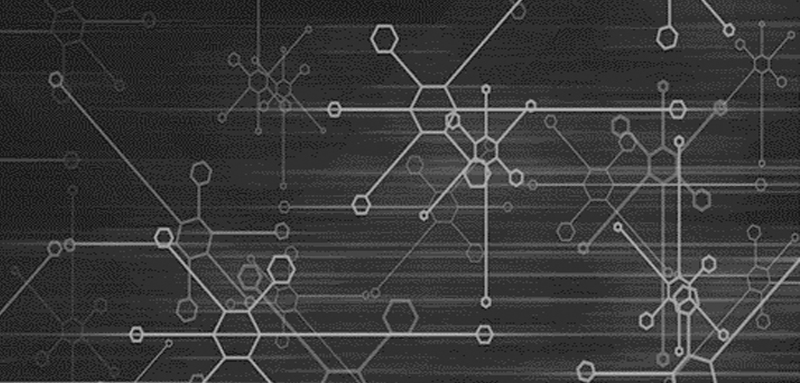 IEEE 802.11AH APPLICATIONS
SMART HOME
SMART BUILDING
SMART FACTORY
SMART HEALTHCARE
SMART EV STATION
IEEE 802.11AH APPLICATIONSS
IEEE 802.11ah uses a sub-1GHz bandwidth, which allows a greater coverage of distance up to 1km while transmitting data at reasonable rates. Therefore, it is suitable for almost all IoT applications such as smart home, smart city, smart energy, smart building, smart factory and smart farm.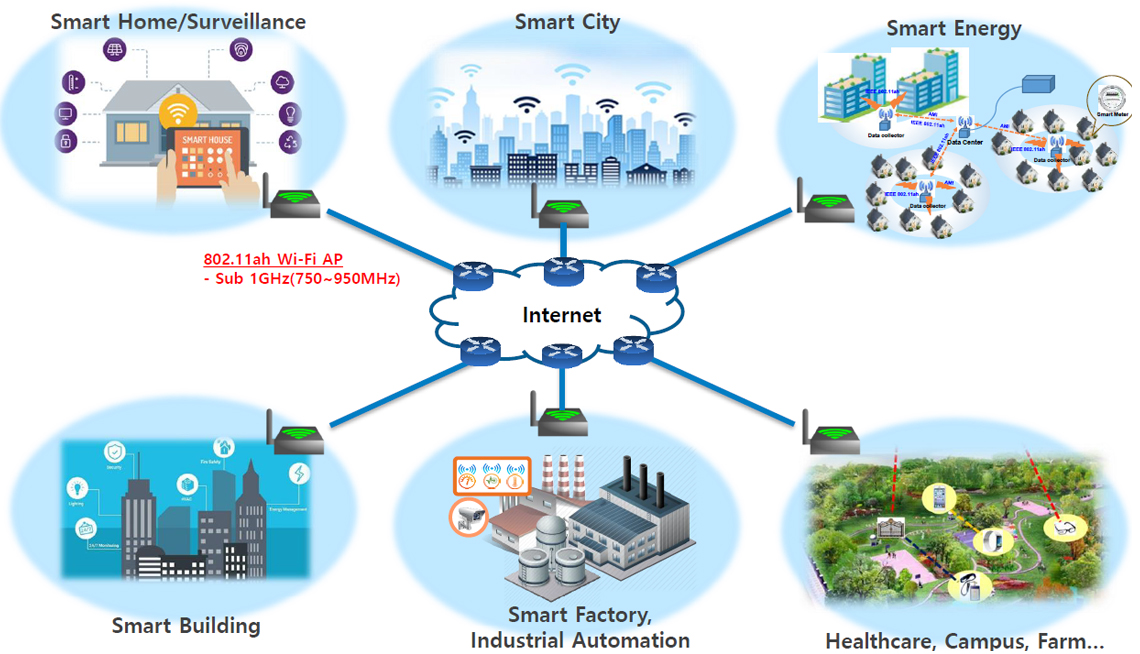 SMART FACTORY
Advantages
Coverage : 300~500m with max 1080 STA per AP
Mbps throughput enables sensor signal data collection for big data analysis or pattern recognition
Low latency suitable for emergency warning or failure detection
Use cases
Equipment and process monitoring and diagnosis
Realtime sensor data collection (vibration, temp/humidity, strain gauge or gas leakage)
Safety or security (CCTV/Thermal camera)
Factory Energy Management System (FEMS)
Wearable (Helmet camera, Watch, Walky-talky and etc.)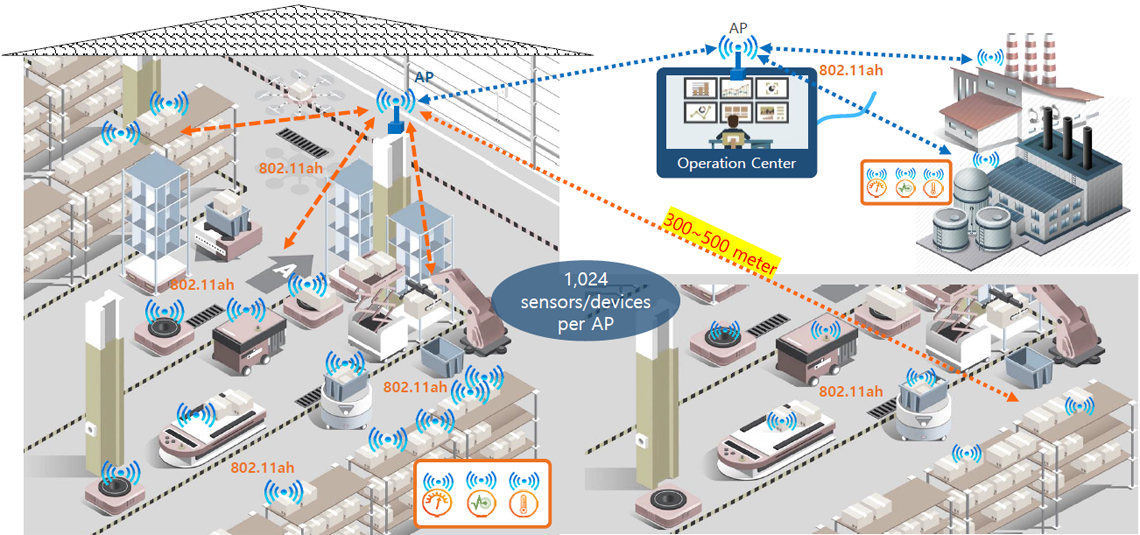 SMART Building
Advantages
One AP can cover about 300m distance and multiple floors
Simple configuration (star or tree topology) for up to 1080 station per AP
Mbps throughput enable large amount of data gathering for big data analysis
Saving Installation cost for wired network and regular fee
Use cases
Tri band Wi Fi AP or IoT hub/gateway
Building energy management system (Meters & gauges)
HVAC & air conditioner
Various sensor devices
Lighting system
Security & surveillance system
Facility & equipment maintenance
Communication between indoor and outdoor unit
Backhaul network for other short range devices(Wi Fi, BT, zigbee , z wave etc.)

SMART HEALTHCARE
Smart healthcare for indoor/outdoor wireless network
Coverage: 300~500 meters for indoor & 1,000 meters for outdoor
IP based simple configuration by 802.11ah with global standard
Remote monitoring for elderly care/independent living & personal fitness of outdoor
Required high data rate for periodic/event based data transferring of indoor pedestrians & mobile devices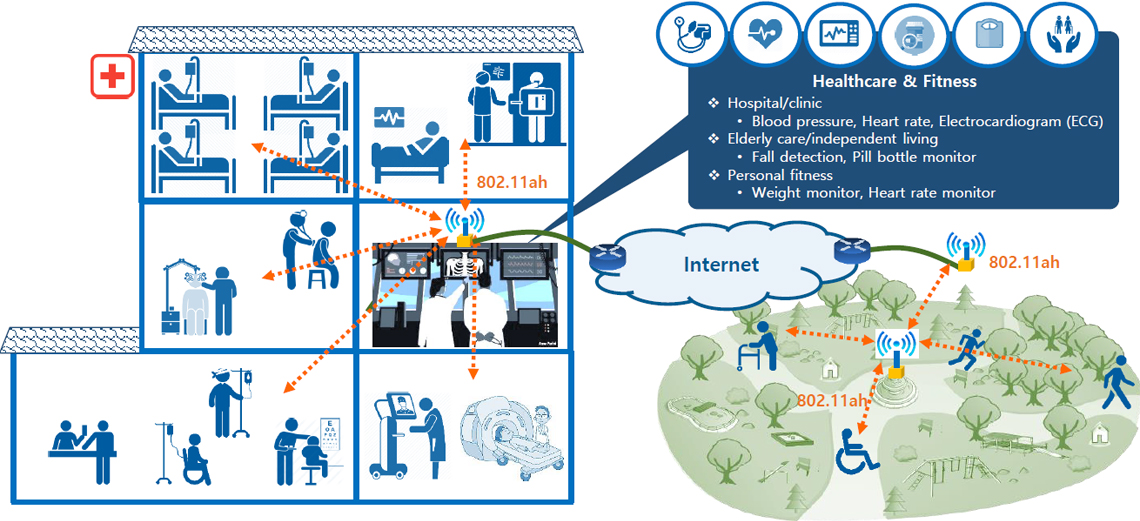 SMART EV CHARGING STA. / PARKING LOT
Charging Point Service for Electric Vehicle by long range & high data rate of 802.11ah
Coverage: 1,000 meters for EV information/charging status & 100~300 meters for monitoring camera
IP based simple configuration by 802.11ah with global standard
EV Charging Point service from City Operating Center
Power level & available information
Monitoring and recognizing each Vehicle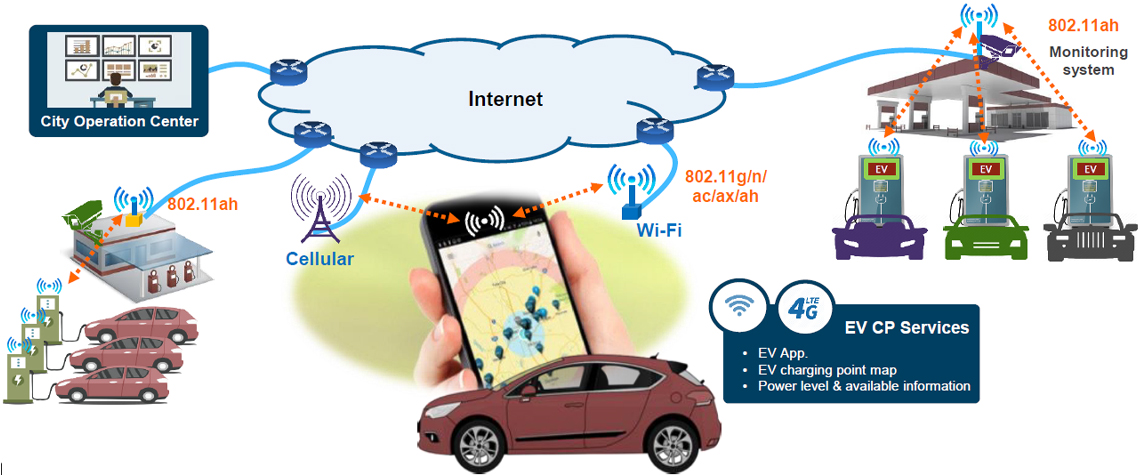 SMART HOME
Advantages
Whole home coverage including outdoor area
Mbps quality throughput between AP and IoT devices
Better wall penetration performance
Reaches front door, multi-floor, basement, garage and garden
Complex mesh network for coverage extension is not required
Supports TCP/IP for easy internet connection
Use cases
Sub-GHz HaLow enabled Tri-band Wi-Fi access point
AI speaker with IoT hub
Smart IoT gateway / EMS gateway / dongle
Door lock / door camera
Webcam / surveillance camera (indoor / outdoor)
Smart CE / smart lighting
Smart meters and gauges (Electric, Solar, Water, Gas)
Sensors (security, gas, fire, air quality, temperature)
Remote control and monitoring devices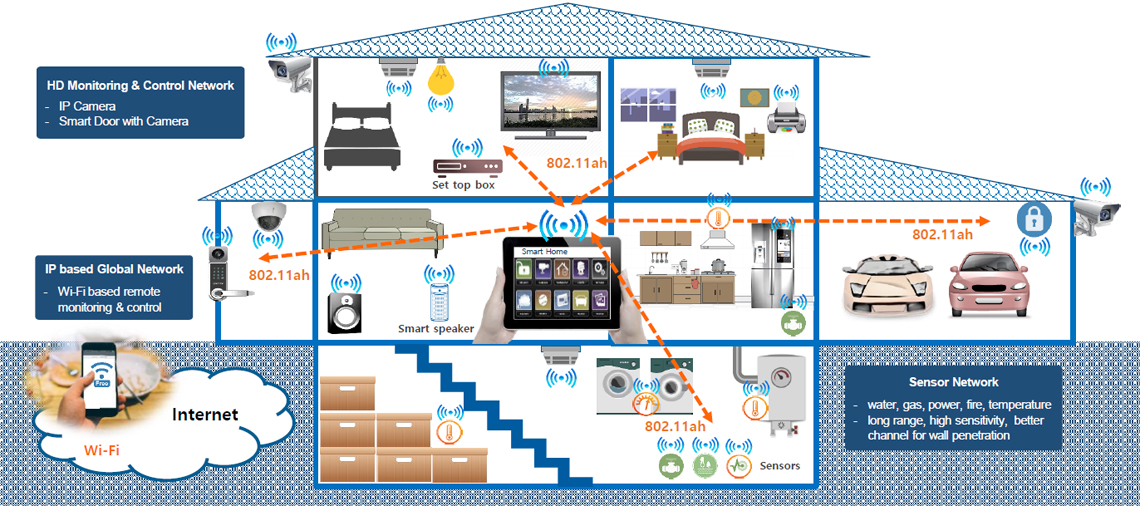 NRC7292 IEEE 802.11ah Wi-Fi Solution + MCU SoC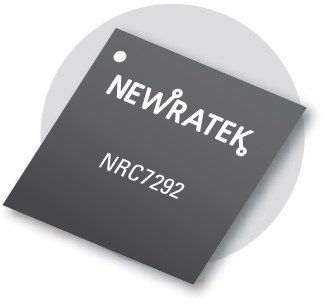 Overview
As an optimized Wi-Fi solution for internet of things (IoT) devices, NRC7292 is industry's first system on a chip (SoC) that is compliant with the IEEE 802.11ah standard. Operating in the Sub 1GHz license-exempt band, it offers a much greater range over 2.4GHz and 5GHz technologies. 1/2/4MHz channel widths with optional short guard interval (SGI) yield 150 Kbps to 15 Mbps PHY throughput which can support lowrate sensor to high-rate surveillance camera application. The protocol's power-saving mechanisms like a longer sleep time greatly reduces power consumption and hence increase battery life.
The self-contained IEEE 802.11ah Wi-Fi networking capabilities with fully integrated radio transceiver of NRC7292 offers the ideal solution to add Wi-Fi connectivity to IoT products. It minimizes the PCB size, requires minimal external circuitries, and enables fast time-to-market.
The RF transceiver is a complete radio front-end optimized for Sub 1GHz band and it has fully integrated pre-power amplifiers as well as the capability to support various commercial external FEM device. With the dual embedded ARM Cortex-M0 and Cortex-M3 processor, NRC7292 can be used either as a standalone device or a slave to a host processor via serial peripheral interface (SPI) or universal asynchronous receiver transmitter (UART) interface. In addition, it can support both AP and STA roles.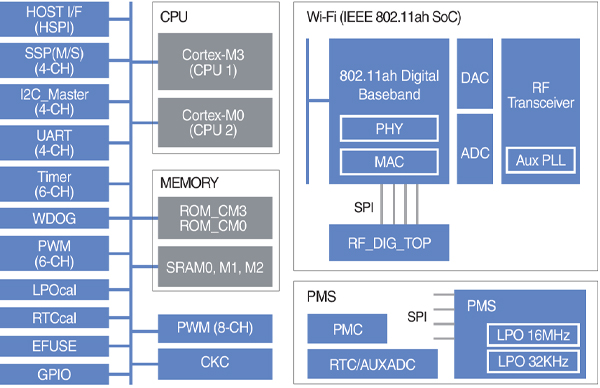 Target Applications
IoT applications
Wearables
Home automation
Healthcare
Industrial automation
Safety and security
Smart grid
Multimedia streaming
Specification
CPU

ARM Cortex-M3 for Application
ARM Cortex-M0 for WLAN
Mailbox for communication

Memory

32KB Boot ROM for M0
32KB Boot ROM for M3
752KB System SRAM
XIP with cache (2 ways, 32KB)

Communication Peripherals

GPIO X 54
SPI X 4
UART X 4
I2C X 4
9-bit ADC X 4

RF Transceiverr

Single-ended RF ports
Frequency band: 750 to 950MHz
Linear TX output power: 0dBm
TX gain range: 30dB
RX noise figure: <4dB
Max. input level: -10dBm
10bits ADC and DAC
Key Features
Complies with IEEE 802.11ahTM-2016
Fully Integrated on-chip 11ah modem, RF transceiver, processor, and memory
Support 1/2/4 MHz bandwidth
Up to 15 Mbps data rate
Travelling pilot for Doppler spread
Low power mode operation
AES-CCMP security
Dedicated SPI and UART interface for host
Various peripheral interfaces for sensor device
Manufacturing tools for configuration and test
Diagnostic and DUT test tools for indoor and outdoor test